Dubai attractions
A must see for everyone who likes to see attractions in Dubai
Best Dubai attractions:
Dubai attractions - Dubai desert - Experience the famous Empty Quarter. One of the best Dubai attractions! Learn Motocross in Dubai at the MX-Academy to enjoy the Dubai Desert in a way you´ll never forget. Make the desert your own Dubai attraction of excitement! We offer you a coaching from the very beginning and prepare yourself for THE experience or your life time! The well-known Rub Al Khali Desert - the Empty Quarter. One of the most beautiful deserts on the planet because there is a tiny bit of people and a real big load of sand, sun, animals, plants, fun and awesome adventure! Here you can see more about desert ride in Dubai.
Dubai attractions - Big Boys Toys Exhibition - Big Boys Toys is the region´s premier lifestyle event, featuring the greatest, fastest and most unique and luxurious products from an amazing event lineup of the world´s most famous manufacturers of luxury lifestyle products. A show of superlatives and a platform for spectacular product launches. Witness the coming together of never before seen products from around the world. Make that lifestyle event your own Dubai attraction!

Dubai attractions - Dubai Miracle Garden - That beautiful Dubai attraction is located in the North West Quadrant of Arabian Ranches interchange along Sheikh Mohammed Bin Zayed Road within Dubai Land Development Project. It is the world´s biggest flower garden with state of art landscape features, including related services and facilities like restaurants, shops and rest areas. Go and see the most colorful and blooming flowers and enjoy remarkable garden designs!


Dubai attractions - Al Ahmadiya School and Heritage House - Al Ahmadiya School was the first regular school in Dubai. It is located in the Al-Ras area of Deira. The two-storey building was renovated in 1995 for use as a museum of education. The oldest part of the house dates back to the 1890s, with many never parts added in laters years. Is is a large courtyard house with more than ten rooms and a rectangular wind tower. To see that wonderful precious piece of time you just need interest and a decision - the entrance is free! This amazing Dubai attraction is worth your visit.

Dubai attractions - Jumeirah Mosque - To enter the only mosque in the UAE to non-Muslim visitors, make your way to the beautiful Jumeirah Mosque. This extremely photogenic mosque is a real Dubai attraction because it is a modern-day tribute to medieaval Fatimid architecture completed with pure-white minarets and domes. The mosque is situated in the up-market beach area of Jumeirah. Visitors are asked to dress conservatively and leave their shoes before entering the historic building. Come and pick up AED 10 and have a memorable experience!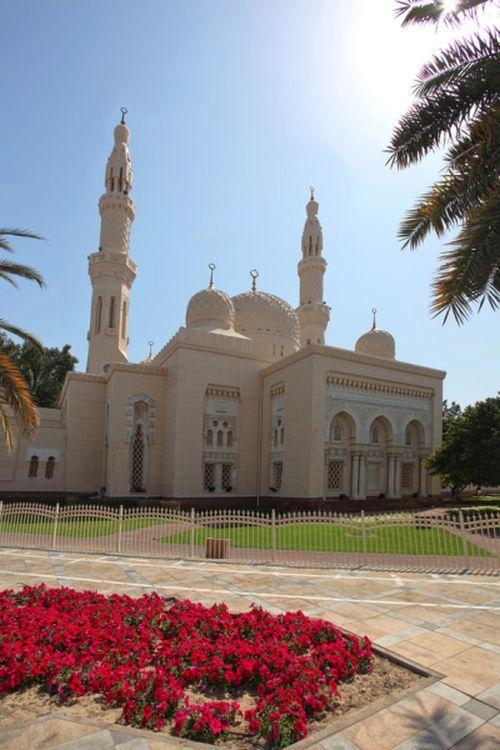 Dubai attractions - Dhow Cruises - Cruising down the Dubai Creek is a remarkable experience you can´t miss! This Dubai attraction is a fascinating event you will ever remember when you´re back home. You will think of a delicious dinner and drinks and beautiful lights of the Dubai Creek and the music and fantastic dancers. Come and save an unforgettable delight!


Dubai attractions - Ras al Khor wildlife sanctuary - this wetland site is one of the few urban protected areas in the world, holding appr. more than 450 species of fauna and 47 species of flora. It´s an amazing Dubai attraction that shows various ecosystems from mangroves, mudflats, lagoons and sabkhas to reed beds and shrub lands. The entrance is free for all - so come and visit!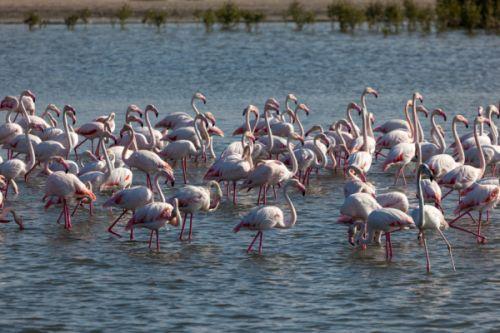 Dubai attractions - The Chillout Lounge - It´s the first ice lounge in the Middle East. This Dubai attraction completely consists of ice. The seating and tables. This place is spell binding with its ice sculptures and uniquely illuminating interior - all at a subzero temperature! Visitors get thermal clothing to enjoy this icy place. Come and visit that beautiful lounge, entrance is AED 75.

Dubai attractions - Meydan Dubai - This huge racing facility is able to accommodate over 60,000 spectators in a 1 mile long grandstand. When it is not used for races it will serve as business and conference integrated facility. The racecourse district occupies 67 million square feet, the overall Meydan City development is 200 million square feet. It is divided into four sub-districts (Meydan Racecourse, Meydan Metropolis, Meydan Horizons, Meydan Godolphin Parks). Meydan is closely affiliated with Mohammed bin Rashid Al Maktoum. Come and get your ticket to experience this Dubai attraction. General admission on Dubai World Cup Day is AED 25, per adult.

Dubai attractions - Creekside Park Dubai - The Creekside Park is designed in a modern style, combining both architectural and natural designs. It is a top choice for jogging, rollerblading and biking in the city. Creekside Park offers waterfront pathways with fishing piers, botanical gardens, playgrounds, barbeque sites, restaurants and an amphitheater. You can also experience the park by a cable car. Children´s City and Dolphinarium are located here. This Dubai attraction is located in Bur Dubai, between Al Maktoum and Al Garhoud Brigde. Entrance is AED 5.

Dubai attractions - Global village - It is the best family entertainment experience in the UAE. Global village offers shows ranging from thrill and stunt shows, street performers and cultural shows from around the world. It is a famous Dubai attraction. Families will enjoy every minute! So come over and take pictures and make memories - it´s grand and exhilarating. General admission ticket is AED 15.
If you are looking for more interestings locations in Dubai, you can click on things to do in Dubai or Dubai activities.

If you have any questions about Dubai attractions, just give us a call or write an email!


Dubai attractions - MX-Academy