Dune Bashing Dubai
Dubai dune bashing - different offers for dune bashing in Dubai
Learn how to ride in the dunes of Dubai - dune bashing
Dune bashing is a form of off-roading on sand dunes. A large sports vehicle such as the Toyota Land Cruiser for example is used for dune bashing. Vehicles that are supposed to be driven on dunes may be equipped with a roll cage in case of an overturn. Before one enters the desert it is common to have a look at the range of vehicles and a group leader. The group leader then guides the pack of vehicles through the stunts in single file to prevent vehicles from losing track of direction or getting lost. Dubai is famous for its fun activities in the sand. So come on and have fun dune bashing in Dubai!
Here are three of the best known dune bashing vendors in Dubai:
Dune bashing Dubai - on a Dirt Bike - Maybe the most fun way to bash the dunes in Dubai. Because you can learn how to jump over the dunes and surf through the dunes with your MX bike.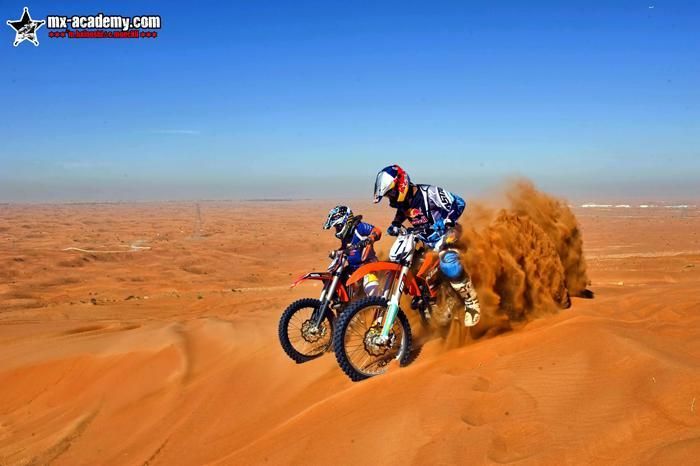 Two well experienced coaches Chris Moeckli and Mohammed Al Balooshi will teach you everything there is to know about desert riding, dune bashing, and mastering the desert on your bike. Both won countless international championships and are passionate about dune bashing and sharing their knowlegde and experience with others.
Please contact us for more information or book your adventure here. We will be happy to arrange trips on your desired dates. To make your journey even more comfortable we have teamed up with the travel experts from "wickedtravel.de" who will gladly take care of your travel details.
Dune bashing Dubai - dunes of Dubai and a lot of fun!
In Dubai you can be sure not only to have the best coaches but also the best equipment. All of our bikes are state of the art and fully equipped and we will provide all necessary protective gear.
Spend an unforgettable Motocross Training in one of the worlds largest sandboxes. The Arabian Desert - the so called Empty Quarter. Join us for a fun, hands on trip on the dirt bike and experience some serious dune bashing.
Please contact us for more information on This email address is being protected from spambots. You need JavaScript enabled to view it. or book your adventure here. We will be happy to arrange trips on your desired dates.
In Dubai you can be sure not only to have the best coaches but also the best equipment: All of our bikes are state-of-the-art and fully equipped and we will provide you with the necessary protective gear for the best dune bashing experience in Dubai!
But this needs some skills and some experience in sand. If you would like to do this, MX-Academy in Dubai is the right place. You can see more about it if you click here Dubai desert drive.
Dubai Dune Bashing - specialized in a range of dune bashing in Dubai. As specialists in dune bashing in Dubai they have a various range of Jeeps like Toyota Land Cruisers. They have own desert camps all based in Dubai.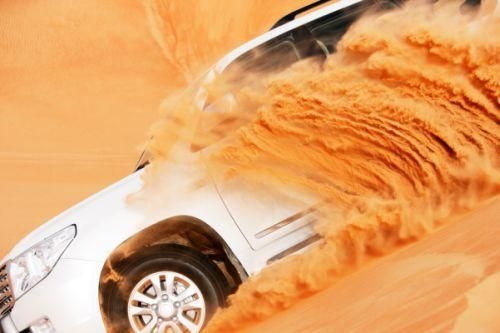 Dune bashing Dubai - Desert Safari Dubai - it´s a must for everyone who is visiting UAE. Save a fascinating memory. It will be worth every penny you invested in that Dubai Dune Bashing adventure. Tours depart in the afternoon across the desert of Dubai including stops to take some photographs during an exciting dune drive to the first destination - a camel farm. The drive continues across the desert. They stop to watch the sunset before coming to a beautiful campsite. You can do sand boarding and try out nice hennas. You can enjoy a delicious BBQ dinner and shisha. Before you return to Dubai Sharjah you can watch beautiful belly dancers performing around campfire by starlight.
Dune bashing Dubai - Just Gas It/Polaris Buggy Tours - if you want to be outdoors and having a good time come and visit the tour experts who the have best knowledge. Experience a stress-free day in the sand dunes of Dubai. They will put together your needs and requirements. The buggies are equipped with automatic gearboxes and 4wd, so riding the dunes could not be easier. The guided dune tours are safe and controlled. Come over and feel the exciting speed and thrill. The tour takes 2 h in the desert, riders kit, dune buggy and guide included. Your 2-seat-car Dubai Dune Bashing adventure is 1100 AED. You can enjoy everyday at 8am and 2pm. It is located at the Hobbies Club, Al Awir, Ras al Khor Rd.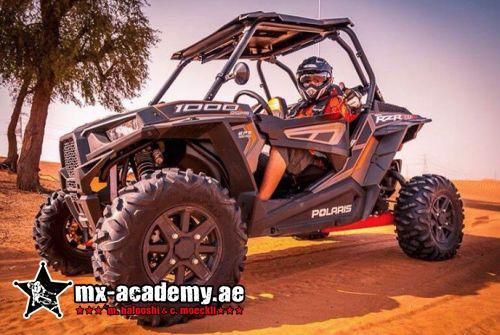 Come to Dubai and discover the adorable iconic architecture like the world´s tallest buildings, the Burj Khalifa, and the worlds only 7-star hotel, the Burj Al Arab, throw yourself into a new outfit you can purchase in one of the 600 stores of the world´s largest shopping mall. Discover the Palm Jumeirah, reside at a place with the rich and famous or indulge yourself with exotic flavours at a local souq. You can enjoy Dubai a thousand different ways - so improving your skills on a bike can be also a part of it!
In Dubai you find perfect conditions for some action loaded days on the bike: hot, dry weather, off road tracks as fast as the eye can see and of course lots of sandy dunes to bash and jump over.
More interesting links for you will be Dubai activities or Motocross Dubai.
We are looking forward to seeing you and doing some real good dune bashing in Dubai! If you have any question about dune bashing Dubai, plz just write us an This email address is being protected from spambots. You need JavaScript enabled to view it. or give us a call - we are looking forward to see you in Dubai!
Dune bashing Dubai | MX-Acaemy
Dune bashing Dubai - lets start the action!
Dune bashing Abu Dhabi, dune bashing Dubai, dune bashing in the desert of Dubai, dune bashing Dubai on our local website