Places to visit in Dubai
What are the places I should visit when I come to Dubai?
There are many places to visit in Dubai!
These are the main places what everybody thinks of when he or she visits Dubai! In average, visitors stay 4.6 days in Dubai (Dubai Tourism Authority Numbers). Only less than 5 days to see the lot! We show you what are the most important places tai:o visit in Dub
If want to have more suggestions of places to visit in Dubai, you can click on this links, things to do in Dubai or Dubai activities.

Top 10 Places to visit in Dubai – Top 10
1. Places to visit in Dubai - Burj Khalifa - One of the most interesting and overwhelming place to visit is the well-known huge building "Burj Khalifa". The tower is 828 metres high, built by man. This is incredible, a must see attraction. Get your tickets in advance AED 155 online! If you do not book online you will pay more than twice as much to get in the line. Over the top 360° view over Dubai it´s worth to go. There is a very interesting museum presented in the basement of the tower. It is incredible how people could ever build this beautiful building. Burj Khalifa was also one major scene in the last "Mission Impossible Movie - Phantom Protocoll" starred with Tom Cruise. Enjoy this place in Dubai!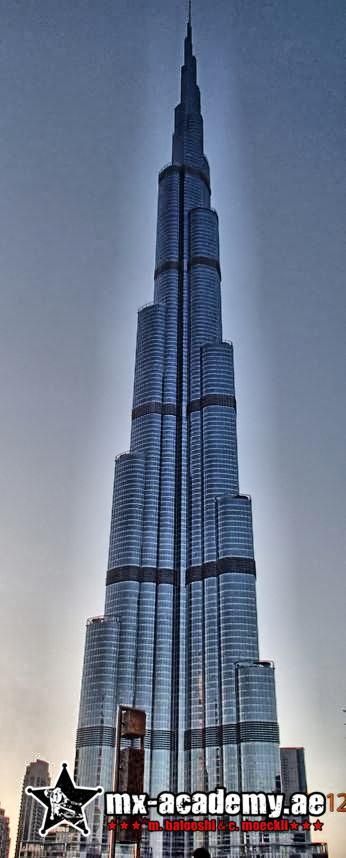 2. Places to visit in Dubai - Wild Wadi Water Park – On a hot day this must visit place on Jumeirah road next to the Burj Al Arab is a famous water funpark. Watch out for saving vouchers in the newspaper or ask for discounts at the hotel. If you stay either in Madinat Jumeirah Hotel, Burj Al Arab or the Jumeirah Beach Hotel the entry is free of charge. You can book these hotels here. Otherwise you will pay around AED 230 to get in. This terrific waterpark is worth to go because you have a watchtower slide where you can overlook the waterpark next to the Burj Al Arab Hotel. This spot is the very closest to see this amazing hotel. There is no access to Burj Al Arab for non-guests. So this is a must place to visit in Dubai.
3. Places to visit in Dubai - Aquaventure Waterpark – Another thrilling water park in Dubai. This water park is on the edge of the Palm Jumeirah and part of the Atlantis Hotel. The fastest waterslide is the Tower of Poseidon. This slide will take of your bathrobe so just fasten it tight and enjoy! You can book the Atlantis hotel also with us. Aquaventure Waterpark is next to the Dolphin Bay of the Atlantis Hotel. There you can enjoy to swim with Dolphins. A place to visit with friends an family. Prices start around AED 250, watchout for saving vouchers or  the Entertainer booklet!
4. Places to visit in Dubai - Dubai Museum and Emirati Heritage - In the evening a must visit in Dubai is the Dubai Museum. A heritage site with lots of pictures from ancient times. When you get a look at this wonderful exhibition you cannot believe the progress Dubai has achieved within 40 years. A society transformed from the medieval times to the 21st century within this short time. This incredible place is surrounded by many shawarma shops where you can dine and souvenir shops to find something beautiful. This place is one of Mario Apel´s favourite place to visit in Dubai. Location Bur Dubai/Souk Area-Meena Bazar.
5. Places to visit in Dubai - Souks - After visiting the museum you have to see the souks of Dubai and Deira. Take an Abra (small arabic watertaxi that crosses the Dubai Creek) to the Deira side and enjoy the markets. Keep on bargaining - always! The Abra cost AED 1 per way. It is very quick and an amazing adventure for tourists and even for those who come often to vistit Dubai. Come and get 2 attractions at one time! This is Chris´ (Chris Moeckli - European Motocross Champion) favourite place to visit. He likes crossing the river after sunset to walk around that beautiful site and buy some aromatic spices in the souk area.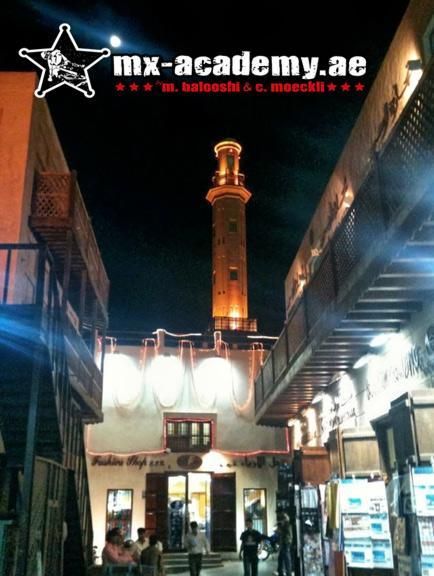 6. Places to visit in Dubai - Beaches and Beach Parks - In the morning you can go to Jumeirah public beaches for a refreshing workout. Running, Swimming, Yoga, Pilates or just having a deep breath! This is the best place to fill up your energy tank for the day. Come from March to October and enjoy the coldest spot outside during summer time. You can go by your own car - parking space is available, or just take the courtesy busses from your hotel. They drop you off on the way to the Jumeirah Beach Park. This park is also a place to visit with your family. Enjoy the whole day there. Attention: Monday only for females!
7. Places to visit in Dubai - Shopping - Dubai Mall, Mall of the Emirates, Bur Juman Mall you name it. For women these shopping sites are a MUST. You do not have to visit them all- each mall is a real stunning place to visit. So visit the mall during the heat of the day - have fun and exciting moments, it can be overwhelming! These places are huge, they offer everything. Malls offer also a lot of events like Dubai Shopping Festival or 24h shopping during some holidays.
8. Places to visit in Dubai - The Fountain & Dubai Aquarium at Dubai Mall - after having dinner at Pauls or Vapiano or any other delicious restaurants you must visit the fountain outside the Dubai mall. This is Mohammed Balooshi´s (MX - Academy Owner and Arab Motocross Champion) favourite place. The fountain shows different performances of water, music and light. It starts every day at 7pm to 11pm, every 30 minutes. This place to visit means a lot of joy. You can combine this fantastic attraction with a Burj Khalifa visit.
9. Places to visit in Dubai - Dubai Marina - the largest man-made Marina. Run around, then take an Abra or a bicycle to get the size. Dubai Marina and its clubs and restaurants are amazing. You can dine out Italian, Iranian, Turkish, Lebanese, Indian a. s. o. After you visit some clubs like the Barasti Beach Bar (Mina Seyahi Hotel) or the Grosvenor House. A bustling place full of nationalities. You will like it. A great place to visit - to go with friends at night!
10. Places to visit in Dubai - Dubai Desert - The famous Empty Quarter - Go on a desert tour with several tour companies with 4WD or enjoy a dinner in the desert. Afterwards you are ready to call or e-mail us to learn Motocross at the MX-Academy to enjoy the Dubai Desert in a way you´ll never forget. Make the desert your own attraction of excitement! We offer you a coaching from the very beginning and prepare yourself for THE experience or your life time! The well-known Rub Al Khali Desert - the Empty Quarter. One of the most beautiful deserts on the planet because there is a tiny bit of people and a real big load of sand, sun, animals, plants, fun and  awesome adventure!
We hope we could give you some ideas about what to do in Dubai. More things to do in Dubai and about having fun in Dubai you can see when clicking on the red links.